Meditation Retreats Africa
Meditation Retreats Africa:
Eat Pray Move, Peacock Pavillions, Marrakesh,  Morocco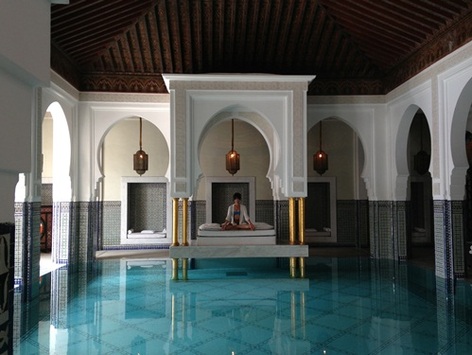 Image courtesy of Peacock Pavillions, Marrakesh
This is yoga meditation retreat is a 7 day luxury retreat in the boutique hotel, Peacock Pavilions situated in Marrakesh.  The hotel is located in 8.5 acres of land including 5 acres of olive groves. Each luxury bedroom has its own private terrace. The price includes delicious vegetarian cuisine (breakfast, lunch and dinner) so no fasting after noon here!  The cuisine is Moroccan with many of the ingredients taken from the hotel's organic gardens.
There is plenty time for excursions to the local souks and an organised day trip to the Atlas Mountains on mules. There is even a meal in Richard Branson's luxury retreat in the Atlas Mountains with chefs tasting menu and wine pairing.
The course is run by Erin Lewis who has been practising Ashtanga yoga since 1998. She is fully qualified teacher (originally hailing from Florida but since living in Italy) combining powerful movements with the more anatomical based Vinyasa flow in her teaching practice.
The day starts at 7.30am with morning tea followed by meditation at 8am for 15 minutes. The first yoga session of the day then follows lasting an hour followed by a sumptuous breakfast at 9.15am.  The week includes dinner in town, outdoor cinema, henna and cocktail party and a wine tasting.  There is swimming in the pools and spas as well. All for the bargain price of £1,754 sterling ($2698 US dollars 2,445 Euros).  However, you have to arrange flights to and from Morocco which has to be factored in.
The retreats includes pampering spa treatments at the Bains de Marrakesh, a cooking course, champagne brunch. There a visit to the uber-luxury Le Mamounia Hotel for traditional afternoon tea.
The meditation is mindfulness meditation so non-aligned and open to everyone from beginners to advanced meditators.
Eat Pray Move donate 10% of the monies from this course to Project Soar who work with underprivileged communities and young women with design, clean-up projects and creative ventures.  Classes are open to all levels from beginners to advanced students.  Participation in classes is voluntary but surely it would be a shame not to use this opportunity in such a lovely setting to learn of the benefits of meditation and yoga.  Yoga classes are held in a dedicated yoga studio and sometimes outside.
Is this too much luxury?  Well, it may not appeal to the purists who are looking to search for the stillness within.  Perhaps you could contrast this wonderful experience with something more Spartan later in the year.
Meditation Retreats Africa:
Emoyeni Retreat Centre, Emoyeni, South Africa

Image courtesy of Emoyeni Retreat Centre
Situated about 35km west of the Hartbeespoort Dam on the old Rustenberg/Pretoria Road, the Eyomeni Retreat Centre is located on the slopes of the Magaliesberg Mountains in North West Province about 100km north west of Johannesburg.  Emoyeni is a Zulu word meaning "Place of Spirit" which is rather apt for a retreat centre.  The centre is operated on Buddhist principles and centres around meditation practice.  There are silent and non-silent retreats. 
The accommodation is simple and basic rather than luxury.  The retreat describes the Centre as "a safe space where the weary can find a moment of peace away from the hustle and bustle of city life". That certainly sounds enticing to me set in the rugged stunning beauty of the South African bush.  There are no facilities by way of swimming pools, television or games rooms.
The centre provides accommodation internally for 14 persons with additional tent space outside.  The meditation room can comfortably accommodate 25 persons.  3 lacto-vegetarian meals are provided daily and linen is also provided.
There are a variety of retreats on offer and which appear to be 3 day weekend retreats arriving on Friday evening at 18.00 and leaving Sunday at 13.00.  
The "Quiet Mountain, Clear Sky" Retreat costs 1,710 to 2,040 South African Rand (£88.00 to £105.94-$137.74 to $164.32 US dollars) and explores 2 aspects of Buddhist practice, the development of calmness and peacefulness and the development of awareness.  This course if run by Mervyn Croft who has been engaged in Buddhism for 40 years including 13 years as a resident member of Buddhist Retreat Centre in Ixopo. He co-founded the Eyomeni Centre in 2000 and lives and teaches at the Centre.  Fiona Rose offers yoga and meditation retreats and Anthony Osler offers a Zen meditation retreat called Stoep Zen.  
Back to main guided meditations page