Meditation Retreats France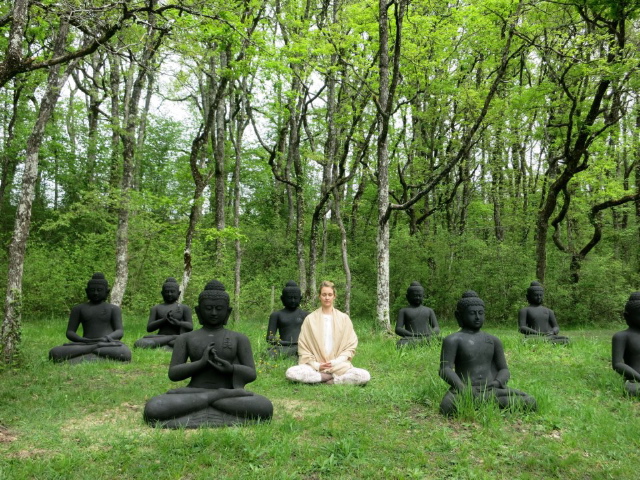 Plum Village, Thenac
Meditation Retreats France:
Plum Village, Thenac, Aquitaine
Established in 1969 during the Vietnam by leading Buddhist spiritual leader and renowned author, Thich Nat Han lives, works and gardens in the beautiful monastery and teaching centres of Plum Village.

The retreats are for a minimum of one week and a maximum of two weeks although it is possible to attend one day mindfulness days.  If a student wishes to stay longer than this, they have to be assessed by the monks during the 2 week retreat and send a letter to the community explaining why they want to stay longer and what they want to achieve from the longer stays which typically last 3 to 6 months. 
The cost of accommodation and food depends on the type of accommodation ranging from 500 euros per week for a single room with own bathroom to just 278 euros per week for a tent in the summer months.  
Very much based on the key Buddhist teachings of mindfulness and loving compassion, retreats are held throughout the year with special retreats for French speakers only and retreats on ecology, a topic dear to Thich Nat Han's heart.  At the time of writing, the great and venerable leader is recovering from a stroke but continues to make remarkable progress in his recovery.  However, the retreats are not about Thich Nat Han and centre on the keys principles of living in the present moment fully aware and awake. 
Meditation Retreats France:
Dechen Choling Shambhala Buddhist Meditation Centre, Limoges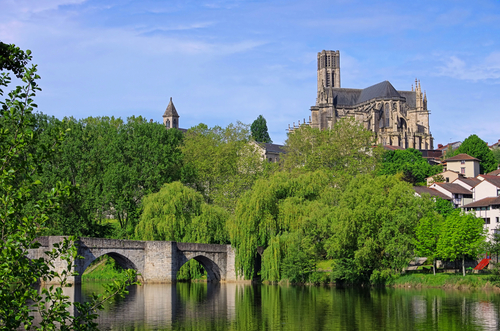 Limoges Cathedral and Vienne River
Set in the centre of France near the beautiful Vienne river and the city of Limoges, this centre is headed by Sakyong Jamgon Mipham Rinpoche who set up the centre in 1994.  He is the son of the Vidyadhara Chogyam Trungpa Rinpoche, the man responsible for bringing Buddhism to the West.  Sakyong Mipham is the author of the global best-selling books Turning Your Mind into an Ally and Ruling Your World. Set in a 56 acre estate, the Dechen Choling centre, which translates from the Tibetan as "Dharma Place of Great Bliss", is a beautiful chateau set in the Limoges countryside with a large meditation hall which can accommodate 100 people and a smaller meditation room for more intimate gatherings.  There is a cafe and shop and organic garden. The retreat offers Kyodo practice "the way of the bow" taught by a former bowman to the Emperor of Japan.
Accommodation is a mixture of 2 person tents with fixed floors, dormitories and 2 person twin rooms.  Tents are priced at Euro 17 (£12 sterling $19.30 US dollars) per person per night for a 2 man tent in May to August. The indoor dormitories sell 4 to 10 people and are also priced at 17 Euros (£12 sterling $19.30 US dollar) per night per person.  You are encouraged to bring your own sleeping bag and towels.  The centre offers a variety of retreats and includes gay, lesbian, bisexual, transsexual retreat in July, a retreat for families with children aged 3 to 10 to enable the parents to enjoy meditation whilst their children are looked after, a youth retreat for young persons aged 18-30, the "way of the bow"(kyodo), teaching meditative archery, mindfulness in nature, and a contemplative photography course so these are very unusual retreats not offered at any other locations and very innovative.  The weather in this part of France in the Summer is glorious and you are far enough down France to be tapping into the warm southern climates.  You are not far from the Dordogne region of France for exploration before of after the retreat.  The course prices vary but are around 450 Euros ($511 US dollars or £322 sterling) sand included the daily food price of 20 Euros ($22 US dollars £14.35 sterling). 
The Shambhala tradition is based on Tibetan Buddhism and is based on the shambhala tradition which states the human beings inherently possess compassion, wisdom and goodness and these qualities are nurtured through meditation and contemplative practices.
Mobile phone use at the retreat is recommended only to keep in touch with family but is discouraged during the retreats. There is no internet access to speak of at the Centre and again is discouraged. Laundry facilities are offered at 5 euros per load. Programmes are taught in English unless otherwise announced although interpreters into French German and Spanish can be arranged.  The food is mainly vegetarian with non-vegetarian dishes offered 2 to 3 times a week.
Back to main meditation retreats page
So what is your favourite meditation retreat?
Have you been to a retreat which you think is amazing, wonderful and that other people will love? Then share it with us here and I will write it up and include it in the list of retreats around the world.