Meditation Retreats: India
The Art of Living International Centre, Bangaluru
The Art of Living Ashram is located  in the Panshagiri Hills 24km south west of Bangalore spread over 65 acres with beautiful gardens mountain walks and trees and a lake and the centre piece, the Vishilakshi Mantap or meditation hall. The ashram was started in 1986 and offers a variety of courses including the art of living happiness course teaching you to find your innate inner happiness and the Sahaj Samadhi meditation.  Sahaj means effortless in Sanskrit and Samadhi means meditation and this meditation allows the conscious mind to settle deeply in the Self giving it rest.  The optimum meditative state is achieved through initial repetition of a mantra.  Founded by Gurudev Sri Sri Ravi Shankar who is an interationally renowned spritual teacher, ambassador for peace and humanitarian leader.  He developed a radical breathing technique which is at the heart of the Art of Living experience called Sudarshan Kriya.  Guests are required to share in the chores of running the Ashram whether it be cleaning, cooking or tending to the gardens.  Prices are available on application to the Ashram. 
Osho Meditation Centre, Koregaon Park, Pune
Osho has been described by the Sunday Times as one of the "1000 Makers of the 20th Century" and by American author Tom Robbins as "the most dangerous man since Jesus Christ".  Osho's teachings have been transcribed from his talks and are highly influential. The Osho Meditation Centre is very much focused on meditation and so is arguably one of the essential places for the meditation devotee to visit.   Live in options are a minimum of 14 days and up to 30 days. Have a look at the gallery on the web site and you will get an idea of this centre.  We are talking serious luxury ultra modern accommodation, Olympic sized swimming pools, vibrant nightlife with live music and chanting, stunning architecture and an amazing diamond shaped glass assembly hall. 

The Centre is located just 15-20 minutes cab drive from Pune Airport.  Most international travellers fly into Mumbai and then take an internal flight to Pune.  Alternatively, you can take the train from Mumbai or drive (4 hours by car).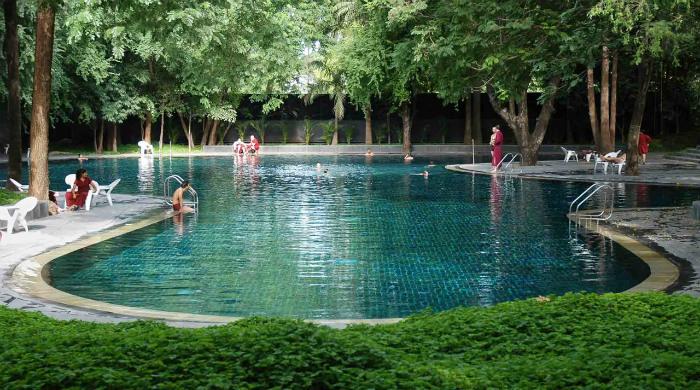 Image courtesy of Osho Meditation Centre
So what is your favourite meditation retreat?
Have you been to a retreat which you think is amazing, wonderful and that other people will love? Then share it with us here and I will write it up and include it in the list of retreats around the world.
Back to meditation retreats page