Meditation Retreats USA
Meditation Retreats USA: Rolling Meadows Yoga and Meditation Retreat, Maine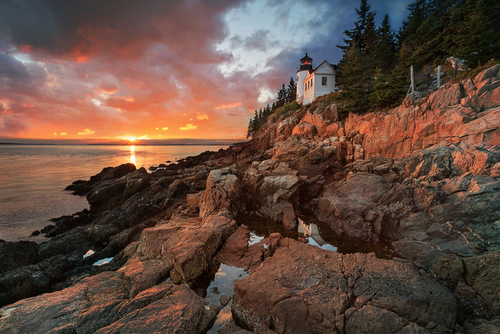 Maine Coastline
Set in the beautiful countryside of Maine, just 15 minutes from the Maine Coast at Belfast, 40 minutes south west from Bangor, Rolling Meadows Yoga and Meditation Retreat is either 3 or 5 days and is fully residential for participants up to a maximum of 11.  The retreat is run by Patricia Brown and Surya-Chandra Das and is based on the principles of yoga asana. It is a silent retreat run on non-dual or presence awareness. Meditations are 30 minutes long and draw on the Vipassana and non-dual traditions.  Unstructured time allows for woodland walks, saunas and a swim in the crystal clear pond. Much of the vegetarian food served comes from the organic garden at the retreat.  The usual ban on electronic devices applies throughout the retreats.  I like the way that this retreat blends yoga postures (asana) with meditation and contemplation.  Patricia Brown is tapping into 34 years experience of teaching asana yoga and its meditative practices. Prices range from $595 for the shorter retreats to $995 for the longer retreats.
Back to USA Meditation Retreats
So what is your favourite meditation retreat?
Have you been to a retreat which you think is amazing, wonderful and that other people will love? Then share it with us here and I will write it up and include it in the list of retreats around the world.