Meditation Retreats Ireland
Meditation Retreats Ireland:
Kalyana Centre for Mindfulness, Dingle, County Kerry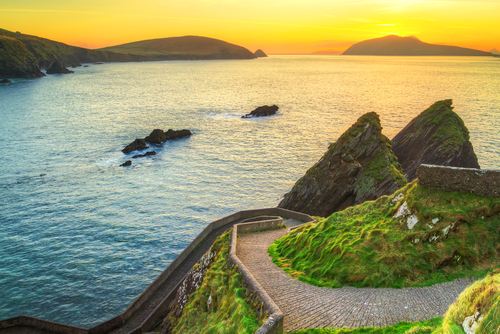 This is a 3 day or 6 day silent retreat for a maximum of 10 participants in the Kalyana Centre.  The sleeping accomodation is either shared twin rooms or bunk beds with curtains around for privacy but it is not mixed sex and single rooms can be provided on request.  The retreat centre is only 7 minutes from Dingle Bay and as you can see from photo above, we are talking breath-taking scenery.  The retreat is run by Swiss-born, Eva Bruha who has spent the last 25 years teaching and practising mindfulness meditation having learnt from great masters in the East and the West but of which she considers Joseph Goldstein (of Spirit Rock, California-fame), her greatest teacher. She was ordained as a buddhist nun and given the name Ma Kalyani thus the name of the centre.  Her journey is fascinating and you must read it. Kalyana has the most beautiful garden which is perfect for the deep journey within during these silent retreats. Delicious vegetarian food is served.  This Vipassana (mindfulness) retreat features loving kindness practice (metta meditation), mindful movement (Kum Nye) based on Tibetan healing yoga as well as voice awareness and walking meditation.   Prices are Euro 350 for the 6 day retreat and Euro 180 for the 3 day retreat and this includes accommodation and food.  These prices are deliberately low so that no matter what your means, you can afford to attend and Dana (voluntary donation) is also encouraged depending on what you can afford. The retreats usually start at 7pm on the first day and end at lunchtime on the last day.
There is also a 4 day hill-walking retreat on the Dingle Peninsula in late September each year.  The walks are about 5 hours long over varied terrains and so are not for the faint-hearted. There is a more social period in the evening over dinner and this is not silent. This is priced at Euro 220 for accommodation, food and teaching.
There are also weekend retreats offered.
Eva's aim is to make the centre open everyone regardless of religion, age or cultural background. She emphasises that you do not need to be a Buddhist to enjoy the retreats at Kilyana.
Eva also runs a retreat spoken in German at the Seminarhaus in Engl near Munich in Southern Germany.
You may want to bring your own meditation cushion to enhance your comfort.