Meditation Retreats USA
Meditation Retreats Yogaville
Meditation Retreats USA:
Meditation Retreats Yogaville:
Yogaville, Buckingham, Virginia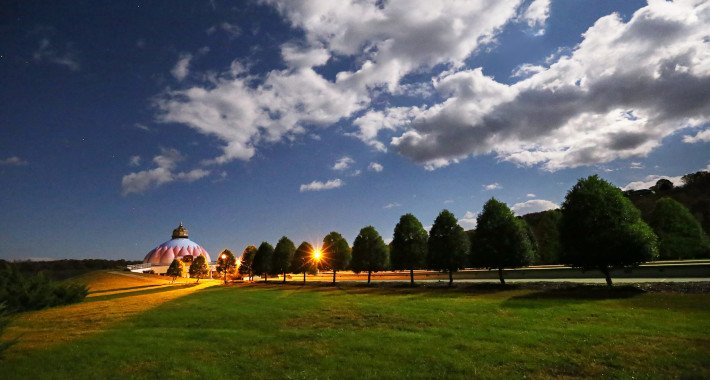 Image courtesy of Yogaville
The mission of Yogaville is to practice live and impart the teachings of Sri Swami Satchidananda, to experience supreme peace and joy and to share that peace and joy with one and all.  Set on the banks of the River James with the Blue Ridge Mountains as a backdrop, this Virginian retreat is a 200 strong community with its own television studio.  Yoga means union or yoke in the ancient Sanskrit language and Integral Yoga synthesises the various branches of Yoga into a comprehensive lifestyle system.  The six branches are hatha yoga (to do with asanas (postures), pranayama (breath control), mudras (hand positions), kriyas, yogic diet and deep relaxation. Raja yoga is the balance of the mind ethical practices, concentration and meditation.  Bhakti yoga is the path of devotion through constant love, thought and service to the Divine. Karma yoga is the path of action and selfless service.  Jhana yoga is the intellectual approach. Finally japa yoga is the repetition of mantras.  This is the essence of Integral Yoga which is taught here at Yogaville.  
There are a variety of retreats offered here including a Yoga Couples Retreat: Live in Love Together, a Ten Day Silent Retreat and a Dive Deep Within Retreat conducted by Swami Gurucharananada.   The latter is priced at a very reasonable $140 US dollars for the tuition for this 4 day retreat.
Accommodation in one of the dormitories would be $75 per night for weekdays and $85 per night for weekends. Staying at the Lotus Guest House (private room with private bathroom) costs $115 per night for weekdays and $150 per night for weekends. Tent sites are the cheapest at $50 per night for weekdays and $60 per night for weekends.
Yogaville have been running their 10 day retreat for over 40 years now and it still follows the form designed by Sri Swami Satchidananda. In addition to learning the core principles of Integral Yoga, delicious and nutritious organic vegetarian food are served and you experience the pleasures and tranquility of Yogaville's sacred spaces.  A key part of this retreat is the keynote talks given by some of Integral Yoga's most inspired teachers.  Although silent retreats are not to be embarked upon lightly, this retreat is designed for all types of persons from beginners to advanced practitioners.
In addition to the backdrop of Blue Ridge Mountains and James River, there are wooded hiking trails, serene lakeside oases and artificially landscaped shrines.  You can truly embrace nature in this idyllic setting.  
Back to main guided meditations page
Back to USA meditation retreats page